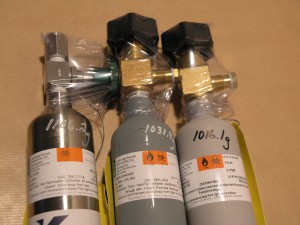 With CK's high reputation within the speciality gas and gas handling equipment markets, we are able to use this background to offer the highest levels of quality, service and knowledge when supplying stable isotope gases. We are able to supply stable isotope labeled gases with a wide variety of packaging options and handling solutions to enable connection to any type of receiver. Many stable isotope gases are kept in stock within the UK and can be delivered within 3 working days or even same day to ensure your lab never runs out at a critical moment.
Alongside the pure gases we also specialise in preparing custom labeled gas mixtures to exact customer specifications.  We currently supply mixtures across the UK and internationally to labs performing soil, material science, medical and atmospheric experimentation by a variety of different methods; each with it's own specific protocols for impurities and physical properties.
We also prepare custom calibration standard mixtures to exact specification by utilising our state of the art filling technology coupled to GC-MS/MS live analysis to produce values within +/- 3ppm depending on mixture components (PPB possible with larger volumes).
Please contact us for a quote or if you have any questions.
For more information on pure stable isotope gas packaging options Click here.
---
Isotopic Gases
---
Product Search
---
Got a Question?
For information please start your enquiry below:
---