CIL offers a number of reagents that are helpful for NMR investigations of biological systems. These reagents include deuterated buffers and reducing agents, 17O-enriched water, glycerol (12C,D8) for low-temperature DNP, and deuterated alkanes for reverse micelles.
Dr. Kaori Wakamatsu from Gunma University has pioneered the use of choline-O-sulfate (COS) and uniformly deuterated choline-O-sulfate (COS-D13) for use in protein NMR studies. His results show significant
improvement in stabilizing soluble forms of protein in solution with a concurrent increase in sensitivity in multidimensional NMR data sets acquired at near-human physiological temperatures.
Reverse Micelles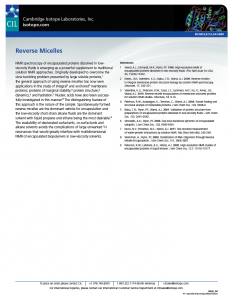 NMR spectroscopy of encapsulated proteins dissolved in low-viscosity fluids is emerging as a powerful supplement to traditional solution NMR approaches.
---
Other Biomolecular NMR
Product Search
---
Got a Question?
For information please start your enquiry below:
---